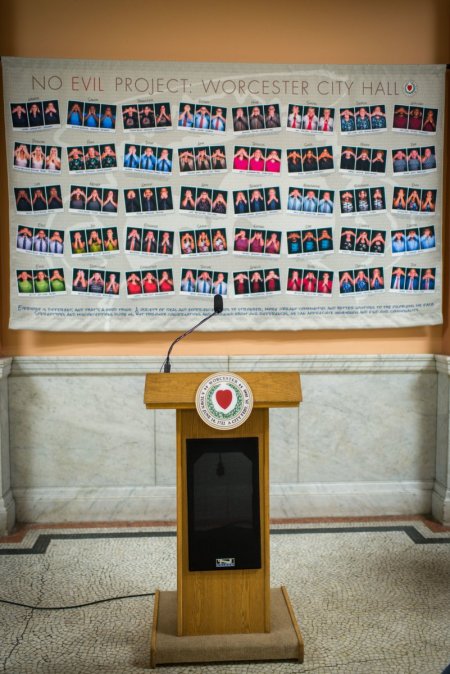 Another use of the project is showing the diversity of a community visually. Worcester, MA has a wide variety of ethnic populations and wanted to create a friendly and welcoming atmosphere to visitors of City Hall.  We photographed 40 people who work in Worcester government to show the variety of people visitors will work with, and the exhibit is one of the first things people see as they enter the building. 
Creating a permanent exhibit within a historical building also added a new challenge: we weren't allowed to make holes in the walls. Because of the traffic in the building we also wanted to avoid stands which could pose as trip hazards, so this exhibit was designed to be held up with large compression rods which also allow the exhibit to be framed by the existing alcoves of the hallway.
"When I think about the purpose of the No Evil Project, I think about my favorite novelist Chimamanda Adichie and her work 'The Danger of a Single Story'. She notes that our lives, our cultures, are composed of many overlapping stories. She warns that if we hear only a single story about another person, we risk a critical misunderstanding.
That's what the No Evil Project does for any observer that sees the exhibit on the wall of City Hall. It sends a message that learning a story of someone else helps mitigate stereotypes and misconceptions. Outside of my office where the exhibit hangs on the wall, I often catch employees, community members, or visitors stopping in the middle of the hallway to view and engage in conversation about the exhibit. The exhibit creates a space for dialogue, which is vitally important. 

Diversity and Inclusion is a top priority for the City of Worcester, and I love that I can promote this project.  A huge focus of my role is to build programming centered on fostering inclusivity among the City workforce and anyone that walks through the doors of City Hall, and the No Evil Project helps achieve this goal."

—Suja Chacko, Chief Diversity Officer of the City of Worcester
2018-2019 Annual Report