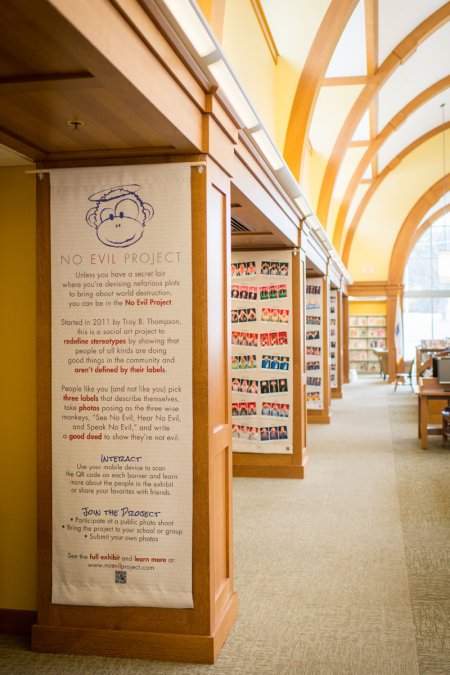 Share the project with a school or organization
Schools have used the project as an art and health program to start conversations about diversity, identity, and bullying, and organizations use the project to raise awareness of their mission. Have your event and sponsor a school or organization's too!
Looking for a unique team building exercise, or diversity related programming that's fun? Need a new way to let your customers and employees get to know each other? Want to sponsor the project at a non-profit or school? Let's do it!
Do you have a great team that you want the rest of the world to know about? Do you feel like traditional head shots just don't cut it? Imagine your office or website filled not only with the photos of everyone there posing as the Three Wise Monkeys, See No Evil, Hear No Evil, and Speak No Evil, but also their labels and good deeds to learn a little bit more about them.
Participation in the No Evil Project is fun! You already know the person in your office that will have the silliest pose and will bring out the best in others while they're trying to keep a straight face for their photos. For those that are camera shy, people have posed in shades, faced away from the camera, and even had their photos taken with paper bags over their heads. The project is about letting people be themselves.
Starting conversations to learn about each other's similarities as well as their differences that may not come up in regular office talk and it will definitely enhance office dynamics. For the project, they choose labels they'd want to represent, which leads to wondering how other people would label them, and finally think about how they label others. This introspective approach to taboo topics makes the project non-confrontational and appealing to people from many different backgrounds - everyone can relate to being labeled in some way.
We work with you and give you everything you need to run a successful event using your own photographer, or we can setup a studio in your office to take the photos too!
Typical events can include:
Group page on the website to promote your organization and all the people that participate.
Poster PDFs and logo files to promote your event internally.
No Evil Project buttons or wrist bands for each participant
Easily share sets on Facebook, Twitter, Pinterest, and Tumblr with automated feeds available.
Full color vinyl or fabric banners to create an exhibit from the event.
Every group is different and we're open to any ideas you may have.
Help support the project. Packages start at $1,500 for a photo shoot of 100 people with the creator of the project.