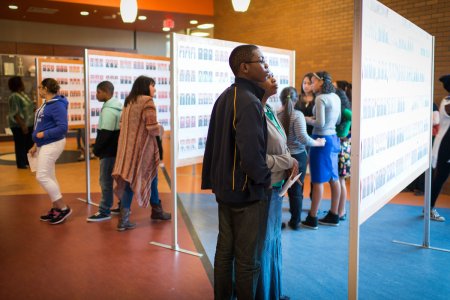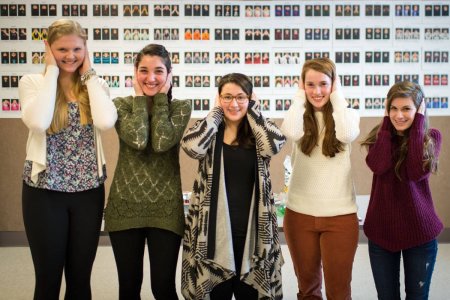 Want a health program that gets students to open up about diversity, identity, and bullying? Having a school festival? Need an activity to help everyone get to know each other? The No Evil Project can be used in many different ways to fit your community.
Organized as part of larger events or on its own, students, teachers, staff, even the school mascot can have fun being part of the project. We've set up a simple booth in the lunch room, been part of school wide celebration, and even had an entire school pick their labels and good deeds. Combining a photo shoot with informal talks or panel discussions is also possible.
Beyond the silly photos and getting to know their fellow students, participating in the project makes people think about labels and stereotypes. For the project, they choose labels they'd want to represent, which leads to wondering how other people would label them, and finally think about how they label others. This introspective approach to taboo topics makes the project non-confrontational and appealing to people from many different backgrounds - everyone can relate to being labeled in some way.
Parents and teachers have commented at how the students were able to open up through the project about their good deeds and why they're participating. Some students have even used the project to come out publicly about deeper labels such as sexuality and depression to show other students in their same situation that they're not alone.
After the event, school administrators can print out everyone's sets to create a temporary paper exhibit or fabric and vinyl banners can be designed for permanent installations.
Schools are using the project as a fun and engaging social-emotional educational program to address a variety of topics including:
Identity Exploration
Positive Relationships
Anti-bullying
Analyzing Influences
Interpersonal Communication Skills
Active Advocacy for Self
Empathy for Others
So far, we have focused on high schools and middle schools, but we are interested in working with elementary schools and after school programs as well.
For groups with minors, students can still participate in the project and be part of school exhibits, but parent permission is needed to be part of the online collection.
Typical events can include:
Indoor photo shoot with lighting, or outdoor tent photo studio
No Evil Project buttons or wrist bands for each participant
Poster PDFs, logo files, and online event listings to promote your event.
Group page on the website to promote your school and all the people that participate.
Easily share sets on Facebook, Twitter, Pinterest, and Tumblr.
Every group is different and we're open to any ideas you may have.
Packages start at $300 when you provide your own photographer, and $1,200 for a photo shoot with the creator of the project. Grant help is available.